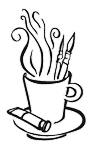 Entering the Sennelier Café des Arts, it's
• Meeting and listening to other artists
• Speaking to explain your prefered technique,
• Asking for advice…
in short …
Simply sharing our passion for painting.
The Sennelier Café des Arts,
• It is also the possibility to participate
to small contest to win material
• It's chatting with a guest artist
• It's being informed before everyone else
of the launch of a new product
Come and talk about art with
Yves-Marie, the artistic director of Sennelier,
at the Sennelier Café des Arts.
Of course, it's free!